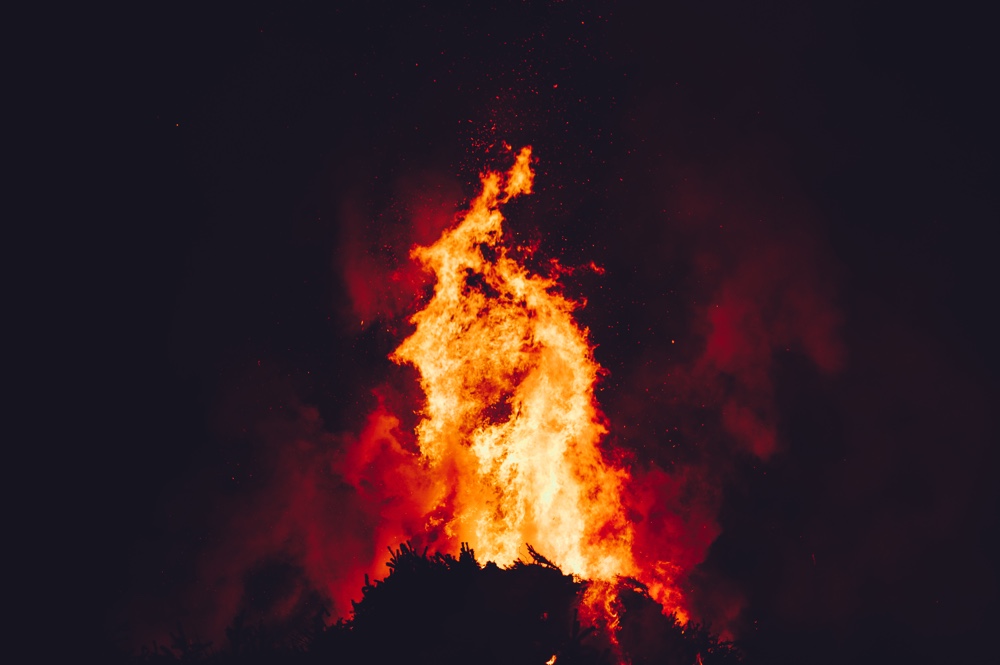 FALSE STATEMENT
God is a murderer of the innocent to include children and babies and He breaks His own commandment of "Thou shalt not kill". Therefore Christians worship a murdering God which makes them murderers as well or God doesn't exist due to this contradiction.

OUR DEFENSE
In an attempt to disprove the existence of God or discredit Christianity many non-believers, particularly Atheists, assault the faith with the notion that God is a murderer. A common practice when it comes to discrediting Christianity's moral ground is to seek out bible verses solely in the Old Testament (usually King James Version) to prove one's case. The reality is this practice comes at the cost of the non-believer's display of ignorance towards the bible as well as showcasing just how much they need to be saved by the very same God they seek to condemn.
The word Murder
Let's start with the 6th commandment. The King James translation reads:
"Thou shalt not kill." (Deuteronomy 5:17)
The Old Testament, which was written in Hebrew uses the word ratsach which was translated into murder or "kill". This word, ratsach, carries a wide variation of meaning and is usually assumed to mean "murder or manslayer" unless the context dictates otherwise. 1
Now, we only have to look at scripture to see that God makes a distinction between unintentionally and intentionally shedding blood and how to handle punishment.
"that the slayer who kills a person accidentally or unintentionally may flee there; and they shall be your refuge from the avenger of blood." (Joshua 20:3) – See also Numbers 35:22-25

"16 'But if he strikes him with an iron implement, so that he dies, he is a murderer; the murderer shall surely be put to death. 17 And if he strikes him with a stone in the hand, by which one could die, and he does die, he is a murderer; the murderer shall surely be put to death. 18 Or if he strikes him with a wooden hand weapon, by which one could die, and he does die, he is a murderer; the murderer shall surely be put to death. 19 The avenger of blood himself shall put the murderer to death; when he meets him, he shall put him to death. 20 If he pushes him out of hatred or, while lying in wait, hurls something at him so that he dies, 21 or in enmity he strikes him with his hand so that he dies, the one who struck him shall surely be put to death. He is a murderer. The avenger of blood shall put the murderer to death when he meets him." (Numbers 35:16-21)
These examples show us the folly in cherry picking words or reading out of context. It is clear there is a distinction in the bible between unintentionally and intentionally killing someone and that God is clearly opposed to the intentional killing of another human being. To say God is ok with murder is simply not true. So now we will address the accusation that God murders the innocent and breaks His own commandment.
The claim that God murders the innocent
There are several examples that non-believers will present to prove their point that God is a sadistic murderer. The flood is one example. However looking at scripture we see that all of mankind had become corrupted which led to God flooding the earth.
"11 The earth also was corrupt before God, and the earth was filled with violence. 12 So God looked upon the earth, and indeed it was corrupt; for all flesh had corrupted their way on the earth.(Genesis 6:11-12)
So as we see, no one was innocent.
Another example that is commonly used would be the mauling of over 40 youths by bears.
"23 Then he went up from there to Bethel; and as he was going up the road, some youths came from the city and mocked him, and said to him, "Go up, you baldhead! Go up, you baldhead! 24 So he turned around and looked at them, and pronounced a curse on them in the name of the Lord. And two female bears came out of the woods and mauled forty-two of the youths." (2 Kings 2:20-24)
Once again we see the there is a lack of innocence. God's prophet Elisha was being mocked and ridiculed by these youths. Mocking a prophet of God was akin to mocking God directly. The punishment was death and served as a warning to not ridicule God's prophets or interfere with their ministry. Death is certainly justified for mocking God to His face.
Let's look at the example of God taking the life of David's child.
"14 However, because by this deed you have given great occasion to the enemies of the Lord to blaspheme, the child also who is born to you shall surely die." (2 Samuel 12:14)
The deed being referenced was David committing adultery with Bathsheba, the wife of Uriah, a servant. This act led to Bathsheba conceiving a child by David. To cover up this act David sent Uriah into a battle where the only outcome was certain death so he could marry Bathsheba. Later David confesses of this sin and is told by Nathan, God's messenger, that he will lose the very same child conceived by this sin. God could have taken David's life for this deed but instead chose to extend grace and mercy to him. However like all sin, the sin must be punished and due to God's reputation amongst all who opposed Him (being a righteous and holy God who judges sin), He chose to take away the "result" of this sin which was David's child. God could have taken David's life however doing so would have sent a message that there are no consequences for sin and that sin doesn't effect others around us. In taking David's child, the punishment was greater and David had to live with the memory of his sin while it served as a stark reminder to God's people and enemies that there are consequences for sin.
Let us also not forget that David took the innocent life of Bathsheba's husband, Uriah and then took Bathsheba for himself to wife. So we might also assume that God could have been returning the same type of punishment to David by taking someone he loved which was his son.
Mass killing
There are times when whole nations would be wiped out due to a command given by God. The bible makes it clear that in these instances no one is innocent.
"It is not because of your righteousness or the uprightness of your heart that you go in to possess their land, but because of the wickedness of these nations that the Lord your God drives them out from before you, and that He may fulfill the word which the Lord swore to your fathers, to Abraham, Isaac, and Jacob." (Deuteronomy 9:5)

"You shall not worship the Lord your God in that way; for every abomination to the Lord which He hates they have done to their gods; for they burn even their sons and daughters in the fire to their gods." (Deuteronomy 12:31)
From these verses it is crystal clear that entire nations can become deceitfully wicked. This becomes possible when man is left to determine the moral code and the righteous morality of God is rejected. Without God man sees fit to do what is right in his own eyes.
"You shall not at all do as we are doing here today—every man doing whatever is right in his own eyes—" (Deuteronomy 12:8)

"Every way of a man is right in his own eyes, But the Lord weighs the hearts." (Proverbs 21:2)
What about children?
It's a false assumption to state all children are innocent or that they do not possess the ability to carry out acts of violence or offend a Holy God. For example, Palestinian children are taught in grade school to hate Jews. They are indoctrinated with the idea of martyrdom and are promised great rewards in the after life for taking part in acts such as suicide bombings. As unfortunate as this is, it proves that children can be just as wicked as adults. Children can and often are influenced by adults, particularly their parents. Now, there is another angle to this. The bible makes it clear we are all born into sin. Good proof of this is that parents, by and large, do not exhaust themselves with the challenge of teaching their children how to misbehave. In fact, quite the opposite is true. No parent spends time teaching their children how to lie, steal, cheat, be selfish or throw tantrums. Sure, there are outliers like terrorist groups but that certainly isn't representative of the entire human race. What we do see, are children being trained to live with good moral values. Children aren't born in some neutral state. They're born in sin and even though some parents may not like this designation, we all know that none of us spend time teaching children how to misbehave. We teach them how to behave. There is no age limit on sin and if God is to be just and holy He must deal with all sin. Every last bit of it. Even children because at their core, they are sinners, waiting to express their sinful desires. We are all born this way.
G
od's mercy and grace.
Now, let's look at the other side of the coin that non-believers typically refuse to mention. In the story of Sodom and Gomorrah, Abraham repeatedly asks God if He would spare the righteous depending on how many righteous people were there, instead of killing them along with the wicked. Abraham starts at 50 and ends at 10. Each time God answers that He would indeed spare the righteous while not sparing the wicked.
"Then he said, "Let not the Lord be angry, and I will speak but once more: Suppose ten should be found there?" And He said, "I will not destroy it for the sake of ten." " (Genesis 18:32)
Later we see God even sending angels into Sodom and Gomorrah to usher out the 4 righteous people left so they would be spared.
"When the morning dawned, the angels urged Lot to hurry, saying, "Arise, take your wife and your two daughters who are here, lest you be consumed in the punishment of the city." " (Genesis 19:15)
If God was a blood thirsty deity then why did He take the time to send angels in to hand pick a whopping total of 4 people out of Sodom and Gomorrah? The answer is that God seeks to save the righteous whether it is 4000, 400, 4 or even 1. All who reject God fall underneath His wrath and receive the penalty for their sinning which is death and eternal damnation.
In conclusion
God is not a murderer and He certainly does not murder the innocent. The claim that God is a murderer, or that He is some sort of blood-thirsty deity is simply untrue and unfounded. In order to be righteous, holy and "just", God must punish all sin. All sin. To not do so makes God the equivalent to a corrupt judge as well as a liar.
For believers, we can be assured that we do not serve a murderous God. In fact it's just the opposite. We serve a God who seeks to save people. However, He must punish sin.
—————————-
1. Meaning of Ratsach